In late May, I was working at my desk when I received a text from my dear friend, Courtney. She said, "Thank you for telling me about Body Glide. I can't wait to use it in Paris next month." (Body Glide is an amazing product that I use to protect chafing. It is awesome for feet, etc…., but I digress.)
I say, "PARIS?!!? WHAT?!?" It was then I learn about this epic trip to Paris that has been planned for the many years to happen in July of 2012. I also found out who was going: Courtney, Gay (Court's mom), QP (Queen Paula and Court's aunt), and the McFarland girls (Margaret, Elizabeth and Jennifer) from North Carolina. I told her I was green with jealousy and that was pretty much the end of conversation that day.
A few days later on May 19, we stopped by Mrs. Gay's house to hang out during the (best organized) garage sale (ever) and started talking about their trip to Paris. I told her I was so jealous and they were going to have such a great time. Ms. Gay says, "Well, why don't you join us?" and I say, "Hmmm. Why don't I?". I look at Doug and he says, "If you want to go, it is fine with me" and my whole world did a little flip. Images of Paris flash before my eyes…
Doug and I discussed me going to Paris the whole way home. The trip was 3 weeks away…was I really going to go?
The next issue was where I was going to sleep. The ladies already had an apartment booked for 6 and they were not allowed to add any more to the reservation. Was I going to go to Paris and stay alone a few blocks away? With this burning question, I started looking for hotel rooms. I found a hotel room 2 blocks away from where the girls were staying and just as I was about to book the flight and hotel…I chickened out.
I called Courtney and told her I did not think I was going and she was bummed, but that call did not compare to when Ms. Gay got ahold of me. She told me more about the trip (without trying to change my mind). She gave me lots of details and gave me an idea of how much of Paris we would see. I slept on it one more day….and decided I was really, officially going.
The next day when I went to book the hotel, it was gone. They had only one room left the day before and I had missed it. So I did what any rational person would do…to prevent myself from chickening out again I booked the flight. I was then officially going – with our without a place to stay.
That night I found a website called airbnb.com and found this listing for a great price, but it seemed too far way from where the girls were. I really wanted to say close to them. I kept looking for days. Finally I contacted Sophie (the owner of this rental) and asked the exact address:
Sophie,
I have friends staying at 35 Rue Chapon. Is your address on 28 Rue du Grenier Saint-Lazare, Paris, Île-de-France? I want to stay close to them.
Thank you!
Lizzie
She responded:
Lizzie, INCREDIBLE! I am also at 35 rue Chapon!!!
See you soon,
Sophie
IT WAS FATE! Seriously, FATE! Who books a flight and tries to find an apartment close to 35 Rue Chapon and ACTUALLY finds a room IN THE SAME BUILDING! The odds of finding a room in the same city: good, the odds of finding a room in the same neighborhood: decent, the odds of finding a room in the same block: slim, and finally the odds of finding a room in the same building: impossible without divine fate.
I would have my own room, bathroom, king size bed, closet AND be in the same building as all the girls.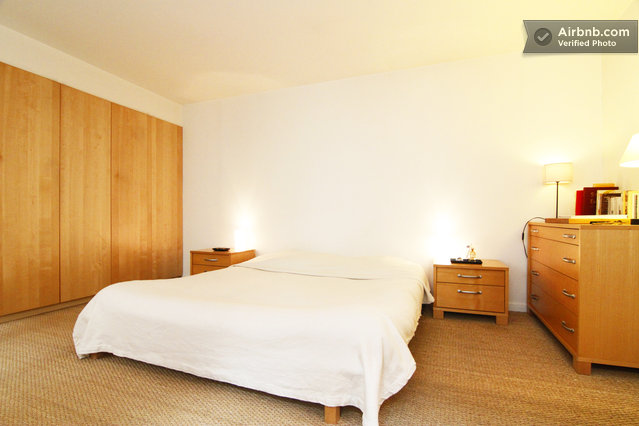 The only thing I was nervous about was that there were 2 other girls living on the floor below me. I had a key to my room, but we had shared common areas like the kitchen and dining room. Look how adorable the sitting room is/was: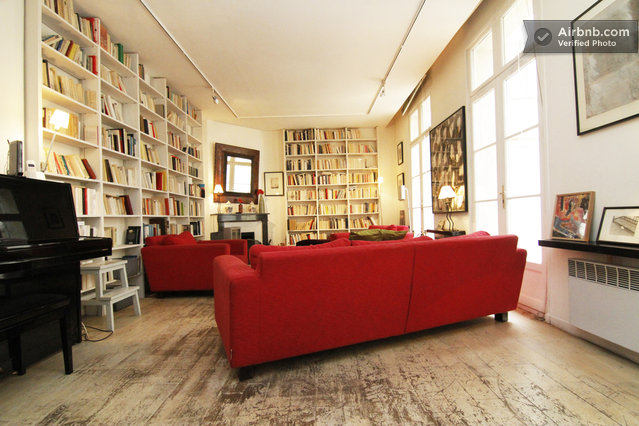 I was officially feeling good about this trip. It had worked out so perfectly. I was on all the same flights as the girls (not sitting with them, but a few rows away), had a sweet place to stay IN THE SAME BUILDING, and was going with 6 amazing ladies to PARIS in 3 short weeks.
And to think… this whole thing started with a text about Body Glide.
I LOVE MY LIFE!
Love and Hugs, Lizzie
Next Up: The trip of a lifetime!